Anatomy of Your Bike.
Learn to Choose Mountain Bike Parts.
Tune Your Ride
Instead of Reading Another Endless List of Mountain Bike Parts,
Find What You Really Need
---
Are you going to build your own mountain bike from scratch? Or maybe you want to improve your current bicycle? Tune it to new trails?
Whatever the reason it is, you need to select your bicycle parts and components first.

I believe the best way to combine your budget with your needs is to choose a groupset of mountain bike components.
Before You Buy Bike Parts… Groupset
Analyze groupsets first. So you find what suits you well and may stay on that price-quality line.
It is important since the same type mountain bike parts may have different prices, materials and quality. The best way to draw a line between all these differences is called a groupset or gruppo.
A groupset or gruppo is an assortment of specialized bike parts suggested to you by well-known bike manufacturers. These mountain bike parts commonly include such components as mountain bike gear, mountain bike brakes, front and rear derailleurs, wheels, pedals, etc.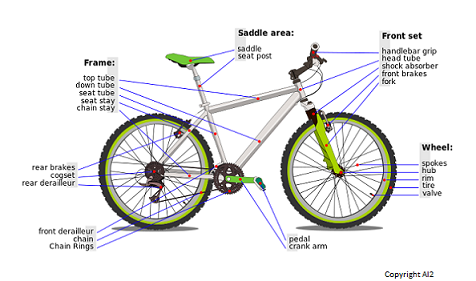 Groupsets differ from each other in price-quality level.
Usually you don't need to buy complete groupset. You can by separate bicycle parts, but still - you get useful information about price-quality level of your purchase.
Types of Groupsets
Following information is a must read if you are searching for mountain bike components. As Shimano has around 50 per cent of worlds (!) bike parts market, you may be interested to know more about Shimano gruppo of mountain bike parts.
Here they come…
Basic level - ALIVIO. This groupset serves as reliable bike components for easy weekend-fun rides or commuting. Contains 9-speed drive, V-Brake and disc brake systems, and Rapidfire Plus shifting equipment.
Upper basic level - DEORE. Remember this brand if you are looking for good commuting bike or good basic level off road, or racing bike.

Designed for wide range cycling activities. Reliable parts but not so expensive materials than…
Pre-advanced level – DEORE LX. You get very good quality, weight and design combination. This level is for you, if you like more extreme ride and racing. No doubt – equipped with LX series your commuting bike will also be unbeatable.
Do you like more aggressive feel and look? SLX is designed especially for aggressive off-road mountain biking.
Advanced level - DEORE XT. Need even more polished, strong and reliable components? Equip your bike with XT you will have top end commuting bicycle or serious race mountain bike.
Top level – SAINT. What you get? Aggressive mountain biking and lighter more precise handling bikes. It's for you if you want highly distinguished bike. For more than medium price level, of course.
Professional level - DEORE XTR. Top class player. Extremely light and precise. For race or trail. However it requires some maintenance because of its precision made components. XTR superb disc brakes, drivetrain, pedals and wheel set are available.
Why You Need to Know That?
I would suggest you stick with one particular gruopset of bike parts. Why? You will have excellent price-quality guidelines. You will be able to compare between different groupsets and separate components.
Most important, having these price-quality guidelines in your mind you can choose and select easier between endless supply of "non-groupset" bike components.
Check These Resources Next...

Find More Bike Details...
---
Go back from Mountain Bike Parts to Home page