Mountain Bikes Guide
with Fifteen Years Experience
"Bring me that Horizon!.."
Welcome! It's nice having you here on my user-friendly mountain bikes guide. If you are here, you must be looking for something.
And here's what you will find on this site...
...opinions, reviews and advices about cycling.
In simple and clear language.
Endless price lists and sophisticated "tech-slang" have no place here.
Is that OK with you?
If so, I'm delighted. Welcome and let us talk about bikes...
So, what's on menu today?
You can choose among various cycling topics: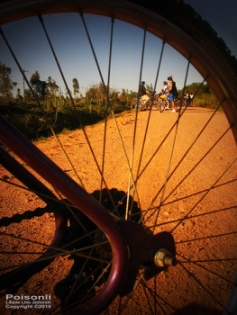 Biking trails – another nice topic closely related with the quality of your biking. What do you do when your backyard and suburbs become too tight for you and your bike?

I would say, it's time to search for a horizon. And that horizon is much easier to find when you know where to look for it. I think I can help you with that.


Bike trainers – do you feel like "simple" cycling is already not sufficient for you biking needs? More strength, more endurance, more speed.

Nice words which may become your reality if you will decide to consider cycling as a professional (at least more professional) physical activity than simple pedaling from point A to point B.

Bike clothing – let your good old blue jeans and T-short with your favorite rock band logo rest in your wardrobe…

The time has come for you to enter into a comfort zone where every stitch counts.
Bike parts – your bike is a logical mechanical system. Find out more about the main details of this system. The best thing about mountain bikes' parts is that there are no limits for how you can improve your bike.

Your imagination (and depth of the pockets) is the only limit here. I have prepared a simple and clear review about the most important parts of your bike. For your convenience.
Electric bike – I'm sure you will like this topic. It's about a natural evolution of cycling. No Darwin's nature laws here, pure mechanical-electrical satisfaction only.

How does eBike work? How long will you ride with one charge? And how fast? And what about…. OK, take a look and find what interests you the most
Visitors' Favorite Pages

| | |
| --- | --- |
| Your bike is more than wheels and frame. Click here to find more… | Feeling of the past. Bike modes come in circles. Try your grand dad's bike! |
| | |
| --- | --- |
| One thing at the time. Analyse and find out more. Results are worth of your time… | To bump or not to bump? And if to bump – how hard? Find out more here. |
Why my menu is better than neighbor's?
It is fitted to your daily biking needs. My personal experience and friendship with mountain bikes has started fifteen years ago. So, almost half of my life already.
Despite all those scratches, scrapes, bangs and other little cute misunderstandings (as in all long term relations), it was a good friendship. And still it is.
Let's ride!
---