Mountain Bike Frame Size
Significant Basics
Bicycle Frame Size is not Only "Small", "Medium" and "Large"
Find More Important Information Here
---
What mountain bike frame size fits you well? No, I cannot provide you with straight answer right now. Instead of it I will give you even more questions…
How tall you are? What is your inseam length? What's your favorite trail?
You need to know these answers, if you consider buying a new mountain bike (or frame). It is not so hard – first two answers require only a measuring tape, third one depends on your riding habits.
Finally…
You don't need to be completely exact with mountain bike sizing. This is not a road bike. Follow the main sizing and fitting principles and you will ride just fine.
First Things First
Measurement – it comes in inches (1 inch = 2.54 cm). Good old tradition.
Frame size is commonly measured by the distance between the top of the seat tube and the center of the crank.
So you can easily measure this distance to know your frame size. It is a good practice if you consider buying a new bike and want to compare its size with your current old one.
When you have measured this distance, compare it with the frame size of the mountain bike you consider to buy.
Frame Sizes – people like to simplify everything. Mountain bike frame size is no exception. As you may find the following measurements table useful, most common frames are designed in 15, 17 and 19 inch sizes.
It's no wonder, since the main part of bikers population fits into these "small, medium, large" categories.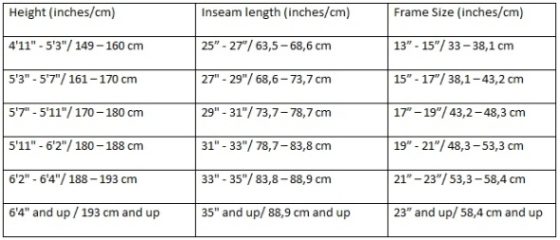 Be aware that different frame manufacturers may support slightly different frame measurements. Here applies the rule "better bigger than smaller".
So, usually frame size is rounded up and sold as a slightly larger frame.
Fitting Your Mountain Bike
Inseam – measure your body, not your pants! Though, as I say, if you can buy trousers that fit you well, you will be able to purchase a mountain bike that fits you well too. Follow this link if you don't know how to measure your inseam.
Stand Over – simply, this means you are standing on the ground with your bike between your legs. What would you like to know from this gymnastic position?
The answer is – stand over height. There should be some free space between your crotch and bike's top tube.
How much? Well, remember that question about your favorite trail? So…
If you are XC (cross-country) biker, leave at least 4-5 inches free gap. Aggressive downhill rider? Be sure – 6-8 inches from the top tube to your crotch won't be too much.
Please remember this for better bike handling and safety of your crotch…
The right sized frame should let you freely stand over your bike and have the ability to fix the seat at the height suitable for best leg extension.
Leg Extension – don't break your teeth with your knees. Talking more serious – your leg must be almost fully extended when it reaches the lowest position with a pedal.
I stress the word "almost". Riding with a full extended leg will cause you loss of pedaling power and comfort. Adjust your seat accordingly as you need your knees to be slightly bent.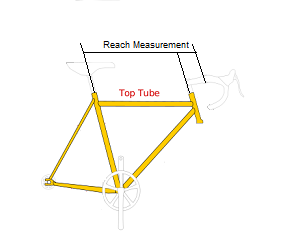 Seat Positioning – center your weight right. As your bike's seat is not a leather armchair, you still need to feel comfortable.
Move your seat backward or forward to split your weight right and equal. As if you were sitting straight on a hard surface.
Handlebars – you need a lower center of gravity when you ride off-road. This makes you more stable. Lower your handlebars 2-3 inches below your seat level for more stability.
Reach – as you see in the picture, reach is addition of your top tube and stem. If your frame is okey for you but you feel sitting to much in reclined position, you may consider getting a longer stem in order to lean more forward.
---
Return from Mountain Bike Frame Size to Mountain Bike Parts
Go back from Mountain Bike Frame Size to Home page