Mountain Bike Frames
Few Simple Words About
Your Decision about Bicycle Frames may Vary
Read to Know Why
---
Important Basics
I presume you are looking for a strong mountain bike frame. But do you know what is "strong" to you? Get familiar with several important factors about frame strength before we move on to materials.
Weight (yours not your bike frame's…)
Just like with mountain bike wheels, be realistic. You would like to purchase a frame compatible with your weight.
It means, the more pounds you have – the stiffer bike frame you need. Consider steel or titanium for their better flexibility.
And don't forget about mountain bike frame size…

Frame Construction
Monocoque (single shell) construction carbon frame is usually stronger than a tube-to-tube frame structure.
And it tends to be lighter at the same level of strength. Anyway, it doesn't mean that one piece carbon bike is definitely better than a tube set bike.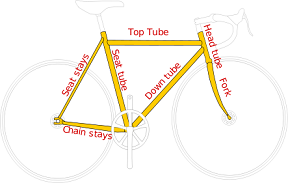 Your budget
Steel, aluminum, carbon, titanium – should be the materials from cheapest to most expensive.
However, price also depends not only on material but on construction, manufacturer and weight of particular frame.
As to the frame's weight – the more expensive frame you buy, the less weight you get.
That's the deal.
Which Material is Right for You?
At the beginning of biking era bikes had wooden frames. Luckily now you have wider variety of materials to choose from. Most important, that…
Nowadays there is no "best" or "worst" mountain bike frame's material. Traditional geometry diamond-shape frame may be easily designed from any of the materials listed below.
How to know your personal needs?
Various materials have different characteristics (usability-price-weight).
Steel
Steel strengths are its weight and durability. Steel frames are strong and… They may rust faster compared with aluminum.
This may be an issue if you generally ride in wet air conditions or you are the fan of winter riding (let's leave underwater riding for diving fan websites…).
Steel is considered as "classic" frame material. However, as good old classic evolves, you may choose from two steel types - carbon steel and its brother choromly steel (alloy of chrome and molybdenum).
As both steel types are strong and durable materials, choromly would have a priority for its less weight.
Aluminum
Personally I have no bad experiences with aluminum frames. Today's technologies can design aluminum frames cheaper, lighter, stronger and stiffer compared with the past aluminum designs.
Stiffness is the most appreciated feature. Stiffer bike frame provides better pedaling power transmission. For you it means better riding quality and less power waste.
Carbon Fiber
Benefits? Yes. Carbon fiber mountain bike frames weight least. They can also offer you better dynamic characteristics since carbon fiber technology enables to fabricate better (smoother) frame shapes.
As carbon fiber frames are commonly used for road bikes, they can serve you well on cross-country trails. Here you may take weight advantage and, in most cases, do not need extra durability of your frame.
Disadvantages? Yes. Compared with steel, carbon is not so flexible material. So, if you are fan of more aggressive riding, your frame can brake more easily.
Titanium
It is good. And it is most expensive. You pay for quality. So titanium frame most likely will be your choice if you are considering buying yourself a high-end mountain bike.
Titanium frames are very flexible, strong, lighter than steel and reliable. And they do not fear rust. Perfect match for wet climate riders.
Or underwater cycling fans…
---
Go back from Mountain Bike Frames to Mountain Bike Parts
Return from Mountain Bike Frames to Home page